News
Details

Written by

Anando Das Gupta

Hits: 83
While this planet comes to an end and we decimate each and every species while reproducing like the proverbial rat, some people have created a symbol to signify that the sands of time is running out.
Details

Written by

Hiranmay Karlekar

Hits: 66
In remembrance of S Paul Veteran photographer S Paul was a great master whose outstanding art was matched by outstanding warmth and generosity With the recent passing of S Paul, 'Paul Sa'ab' to his friends, colleagues and legions of admirers, photography in India has lost one of its most outstanding practitioners ever. The void he has left behind will be difficult to fill. There, doubtless, remains his brother, Raghu Rai, perhaps the tallest poppy now among the Indian sub-continent's artists with cameras. Both, however, occupied their distinct spaces in the country's photographic landscape and Raghu, I am sure, would be the first to affirm that it would take a long time, if ever, for another iconic figure like his elder sibling, who did so much for so many, to emerge. I have known both of them. Raghu and I did two very different things at The Statesman in the early 1970s. I wrote on the typewriter (no computer then): He shot with cameras. It was while watching his work at close quarters that I realised that one could turn mundane news photography into superior art if one had a touch of genius. The realisation was confirmed when I saw his elder brother, S Paul, at work at The Indian Express where he clicked away from 1962 to 1989, and I tapped away first on the typewriter and then on the computer from 1981 to the very end of 1993. The two brothers were very different. Raghu was, and has remained, the archetypal flamboyant extrovert who arrived even for a chat with a flourish and departed with a flourish, his presence itself a statement of his exuberance. Paul Sa'ab was relatively quiet, was given neither to sweeping gestures nor to colourful, high-decibel talk. Yet he did not lack in conviviality, was articulate and could express his thoughts with remarkable clarity. What was common to both brothers was their genius. Photography has been described as art with light. It is, however, the eye that decides when a person or any non-human living being or object, caught in an arc or shaft of light or pouring sunlight, constitutes a scene that would constitute art when photographed. Paul Sa'ab had his eyes open all the time and could see the unusual and the eternal in what would appear to others a quotidian occurrence — women walking in the rain, young boys perched on a tree and watching intently something below. The discerning vision was matched by his vast and meticulous grasp of technology and the result of the combination was photographs that would stand the test of time. We met almost every day when I was at The Indian Express and seldom thereafter as the trajectories of our lives went in very different directions. Yet, I always carried within me a profound respect for the artist as well as the kind of person he was. He was, therefore, the first person I thought of when searching for someone to inaugurate my first solo exhibition of photographs at the India International Centre in May, 2005. He did me the great honour of accepting my request and his inaugural speech, full of incisive comments about photography in general and my work, was heard with rapt attention. I was deeply honoured and moved when he visited my second solo exhibition at the India International Centre in December 2015. He stayed for over two hours, looking at the photographs, commenting on those which he thought were significant, telling me what more I could do to improve my craft. Several young photographers who were present flocked round him. He spoke to them with warmth and kindness and was generous with tips. But that was Paul Sa'ab, whose generosity had few limits. Then came his act of profound generosity to me. Before leaving, he wrote in the visitors' book: "Very good pictures of a variety of landscapes. There are some magical too, There is a lot of improvement over your last exhibition! I do hope I will look for another still better one. GOD BLESS and all the best." Paul Sa'ab, I will cherish these comments for ever and never cease regretting that you left for the hereafter before I could put another exhibition together. It is now my turn to say, "GOD BLESS and all the best." Happy journey, Great Master. (The writer is Consultant Editor, The Pioneer, and an author)
Details

Written by

hindustan times

Hits: 117
Update: My colleagues have been chasing this case an due to police pressure two of them have been arrested. Two are still absconding.
---
Cruelty comes from all corners of the country and the world. Here are some more examples taking place in Delhi. Also attaching the FIRs The news report is from hindustan Times.
http://www.hindustantimes.com/delhi-news/three-youths-kill-stray-dog-with-a-stone-bag-it-walk-away-in-munirka/story-1LzZ54CSwAExeNa0bLJNjI.html
Three men, appearing to be in their mid 20s, have been caught on tape beating a dog to death in south Delhi. The act was captured on a CCTV camera, fixed on a building near the spot where the dog was killed. Police have registered an FIR and are probing the identity of the men. Investigating officials have approached local residents and are looking at footage from other CCTV cameras, which may have captured them.
A grab from CCTV footage shows one of the men killing the dog with a stone.
The incident took place in Munirka early on August 15 morning. Residents learned about the incident, when a woman who regularly fed the dog near her house realised the animal was missing. The woman in her complaint told police that on checking the usual spot where she fed the dog every morning, she saw blood splattered on the ground. She asked locals about the dog but no one had an idea.
"The dog always slept on the pavement at night. Many locals knew the dog and fed it. When we did not find the dog, we checked the CCTV footage and saw those youths beating the dog. We filed a police complaint on Wednesday. We request police to identify and arrest the youths as soon as possible," said a senior police officer.
Grab from CCTV footage shows man waking away with the dead dog.
The CCTV footage shows three youths in a narrow alley walking towards the dog with stones in their hand at 4.04 am. There are two other persons seen at a distance. One of the youths is seen repeatedly stoning the dog killing it at the spot, the others too hit the animal.
Then, they hurriedly threw the dog inside a dark alley and then went on walking about the street, to check so that passersby did not spot them. The footage shows a woman passing by the alley and halting the at the spot, looking at the blood on the road, where the three had killed the dog.
But, she walks away unaware that a dog had been killed at the spot a minute ago. Seconds later, the boys who are seen pretending to be passing by the area, return to the spot with a sack and are seen putting the dead animal inside.
CCTV grab shows one of the youths getting a bag to take away the dog.
Additional deputy commissioner of police(south) Chinmoy Biswal said a case has been registered at the Vasant Vihar police station under sections of killing an animal and sections of The Prevention of Cruelty to Animal Act 1960.
A senior investigator said, "We have a few leads. There are some witnesses who are helping us in our investigation."
Here is more information from other websites
http://www.indiatimes.com/news/india/delhi-disgraced-five-men-stone-a-stray-dog-to-death-in-munirka-cctv-footage-shows-their-crime-328049.html
n what could put Delhi to shame, five resident's of SOuth Delhi's Munirka area bludgeoned a stray dog to death. According to police, their crime was captured by a CCTV camera operating in the street. A woman staying in the locality submitted the footage to the police, following which an FIR was lodged.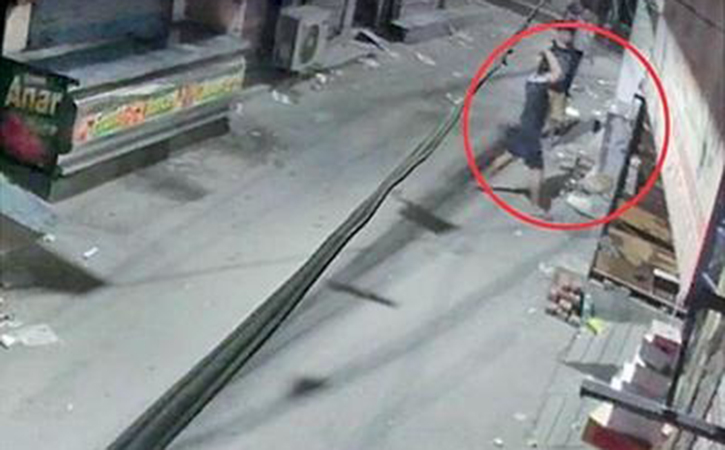 SCREEN GRAB/TOI
Additional DCP (south) Chinmoy Biswal said efforts were being made to identify the perpetrators who could be Munirka residents. They were seen carrying the dog carcass in a plastic bag after the incident.
The footage, a copy of which is with TOI, is dated August 15. It shows the five men in a street at Munirka Village. Three of them approach a mongrel sleeping on the staircase of a shop. They pick up rocks and start hitting the dog on its head repeatedly. One of them then picks up the dog and throws it inside a small corridor to stop blood spilling onto the street.
They then wait for a while for the street to be completely clear of human presence. Then one of them brings out a plastic bag in which the dog's carcass is stuffed.
All five men then leave the spot with the carcass.
The dog was fed regularly by a few locals. In the morning, those people couldn't find it. "Only some blood was lying there. We realised what must have happened. We contacted some shopkeepers who had CCTV cameras installed outside. The footage from one of them showed what had happened," said a local requesting anonymity.
Locals also said that there have been many similar incidents of stray dogs going missing in the locality, leading to fights. Police suspect the men were drunk and killed the animal to eat it.
Another resident claimed that the killers are from the same locality and have been accused of killing dogs in the past as well. He said the police had been informed about it, and they had promised to ramp up patrolling in the area, but did precious little.